How Squidll's online language support work

s

.
Everything you need to know to get started:
4 different languages (English, French, Dutch, German)

One-on-one online live sessions

Specialised business language coaches

Tailored lessons and exercises
Learning a language is challenging. Trust us, we know that.
It challenges both your mind and takes time.
Thanks to our experienced and supportive coaches, our vast knowledge in the language learning sector and our innovative AI technology, you are set up for success.
Get Squidlled and bring your ambitions to the next level!
1 to 1 live sessions - There's no better way to accelerate your learning

.
Find the perfect teacher for you and book your sessions. This will be a learning experience like never before. Our business language coaches and the AI technology will allow you to learn faster than ever before.
Our experienced and motivated coaches

.
Our coaches are carefully selected based on both their language skills and business expertise. They are at the heart of Squidll and will truly support you with your specific needs.
The lesson is tailored to YOUR needs

.
That's right, our coaches don't follow a pre-set curriculum or pre-set materials. They will adapt the sessions based on the goals you want to reach. You will be welcome to bring your own material, like e-mails, presentations, etc. during the session. Let's make this happen!
The learning continues even after your lesson

.
At the end of your live lesson, with your coach, the platform will provide you with AI generated exercises based on the key phrases and the vocabulary studied during the lesson. You will be able to practise with a range of exercises and master the language you need in no time.
From beginners to advanced learners, coming from any background

.
We cover all levels! Our platform is designed to support language learners of all levels and from different professional backgrounds. The added value we offer is that each session is unique and tailored. We strongly believe this is key to success.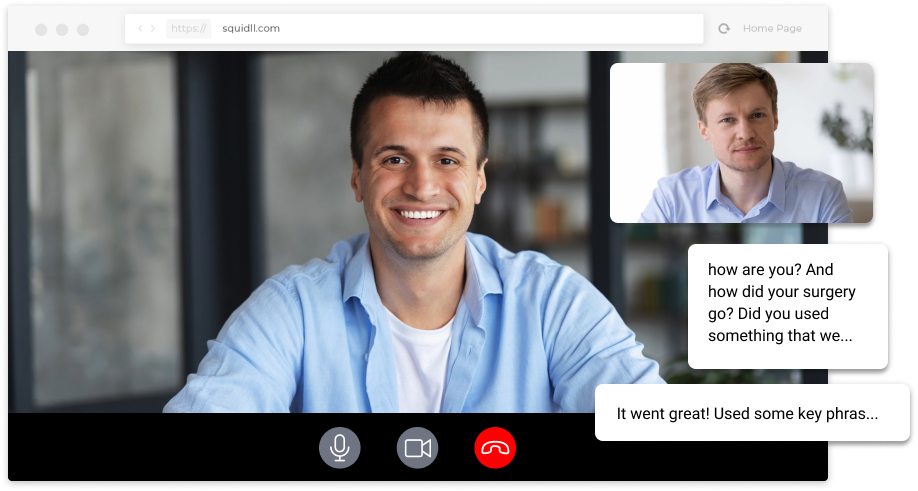 Set your user name and password. It is quick and simple; you will only need an email address and a password.

Go to our pricing page and discover the different plans. From learning a language from scratch to assistance for a specific situation. Choose your plan, sign up and buy your credits. Once done, your credits will be added to your account, which will allow you to book a session with one of our coaches.

03

Find the perfect coach for you.

Now that you have your credits, you are ready to book a session. Discover our coaches and their specialisations. Pick the coach who suits you best. Send a lesson request or chat with your coach. Found your match? Then you're ready for your first session.

It's time to start learning! Log into Squidll promptly for your session and enjoy the lesson with your selected coach. The lesson will take place directly on the platform and, you will access the virtual room by clicking on the telephone handset icon.

05

And your very own AI generated exercises.

At the end of your lesson, you will be able to go through your lesson review as many times as you like and your language skills will benefit greatly from the AI generated exercises.

Ready to start learning with Squidll

?
The combination of our expert coaches with the innovative technology will allow you to learn 5x times faster than with any other platform. Let's get Squidlling!
Not sure if Squidll is the right
platform for you

?
Contact us and we will openly listen to your needs to see if we can resolve your doubts.
You will hear an honest opinion; we prefer open communication rather than an unhappy learner, always!