Meet our business language coaches
.
Our coaches are true language experts and are at the heart of Squidll.
Through their business and language experience they will facilitate and guide you on your learning journey.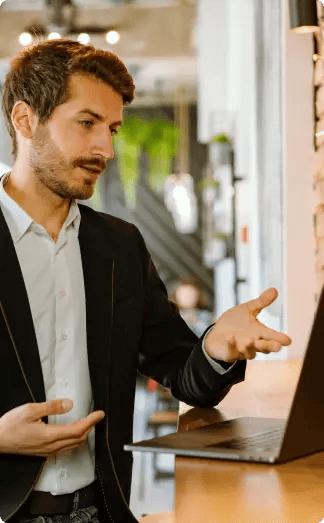 Squidll brings professionals and business language coaches together

.
When you need support or intensive coaching for specific language skills you want to be sure you get the help of a professional who understands what you need.
That's why we select our coaches very carefully and only work with true language experts who have both teaching and business backgrounds.
Meet Sam, one of our English coaches.

"My name is Sam and I'm an English coach on Squidll. With over 10 years of experience, I'm able to assist and support absolute beginners right through to near native speakers.
Are you looking to fine-tune your presentation? Do you need to practise your interview techniques? Are you facilitating an upcoming meeting that you just want to run through and tweak to perfection? Then get in touch and we can focus on the task in hand together in an efficient, productive and relaxed way."
Boost your professional language skills
.
Our objective is to support you in reaching your language goals, whatever they might be.
With the help of our experienced business language coaches you will overcome your language barriers so you can perform at your best in every language.
Experienced language coaches

.
Our coaches are experienced business language coaches and are carefully selected.
They are professionals, based all over the world, who will support you to empower your business skills in one or more languages.
Coaches with business expertise

.
Our coaches do not only have great language coaching skills but also have relevant business expertise.
Use our filters to search for a coach who has expertise in the domains or topics you want to work on.
Every session is tailored to YOUR professional needs

.
Our language coaches don't follow a pre-set curriculum or pre-set materials. They will adapt each session based on the goals you want to reach.
You are welcome to bring your own materials such as e-mails, presentations, etc to work on them with your coach.
Our coaches are selected on both their language coaching skills and business expertise.
Find a coach who perfectly matches your needs by filtering on a certain domain (e.g. Business, HR, Sales, Engineering, etc.) or a specific topic (phonecalls, presentations, negotiations, etc.).


Sam H.

English Coach

Lisa S.

English Coach

Mathieu G.

French Coach

Marine C.

French Coach

Nynke S.

Dutch Coach

Ils M.

German Coach